Charlie Kerfeld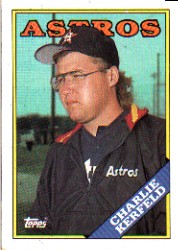 Charlie Kerfeld is a righty relief pitcher for Houston in RBI Baseball. His name is often misspelled Kerfield. Be sure to get this right as to not look like a rookie.
Kerfeld had quite a problem with his weight throughout his career, as entries from dee nee's Hall of Shame clearly show:
Once had 37 boxes of Orange Jell-O written into his contract
Had a lucky Jetsons shirt he almost always wore under his jersey
After balooning to over 275 pounds, Kerfeld was sent down to the minors because of his weight problem
Caught eating a plate of ribs in the bullpen in July 1987. *
Fatty Kerfeld is a right-handed pitcher who throws from the side. The sidearm motion is pretty much all he's got going for him, except of course for an insatiable appetite for Jell-O and red meat. There is no truth behind the rumors he is now working on a barbecue flavored Jell-O.
Kerfeld was the youngest player in the major leagues in 1985, debuting at age 21 years, 10 months.