Roger McDowell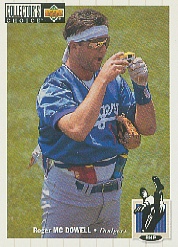 Roger McDowell is a relief pitcher for New York on the NES version of RBI Baseball. McDowell is known as a respectable relief pitcher in RBI - he possesses a decent curve, above average speed and one of the top drop ratings in the game.
RBI Stats
Bio
Born December 21, 1960 in Cincinnati,OH
Drafted by the Mets in the 3rd round of the 1982 draft.
External Links