Glenn Davis
Jump to navigation
Jump to search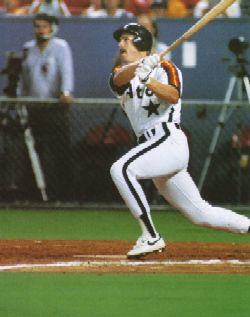 Glenn Davis is the starting first baseman and cleanup hitter for Houston on the NES version of RBI. Davis is known as the only power hitter on a brutally weak Houston lineup. Outside of pinch hit bonus ABs, Davis is the only player on Houston that puts any sort of fear into the opposing pitcher.
Bio
Born on March 28, 1961
Has the record for most career homers without a Grand Slam (190)
Homered in his first postseason AB to give Houston a 1-0 victory in game 1 of the 1986 NLCS
Was adopted by the family of ML pitcher Storm Davis, from whom he took his last name.
Davis the Player
Glenn Davis immediately came into the Houston Astros as a force. In his first full season, he hit 31 dingers and finished second in the MVP voting. In subsequent seasons, Davis hit 27, 30, 34 and 22 homers, making him one of the top power hitters in all of baseball. In 1991, Davis was traded to the Baltimore Orioles for future MLB greats Steve Finley and Curt Schilling. From 1990 on, Davis was injured and was never the same player. He is unfortuately well-known for the lopsided trade to Baltimore but should be remembered for his healthy days in Houston.
RBI Stats
Davis in RBI
Glenn Davis in RBI is a mixed bag. On one hand, he is by far the best hitter on the Houston team. His 867 power is 60 points higher than any other Astro, making him the must-produce player for their success. On the other hand, Davis' legacy is a bit inflated because of his position on Houston. An 867 power, while respectable, is weak for a cleanup hitter and he is generally considered the worst #4 in the game. People expect too much from Davis because of his position on Houston and that often leads to backlash. Being the best hitter on your team by far, yet being the worst hitter in all of RBI at your order in the lineup tells you how shitty of a team Houston is.
Nicknames
External Links