Kirk Gibson
Jump to navigation
Jump to search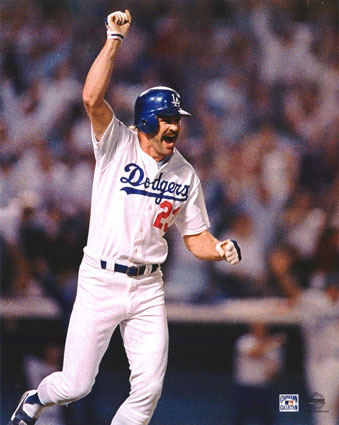 Kirk Gibson is a starter for Detroit in the NES version of RBI. Gibson is widely considered one of the best players on the game with the rare combination of power and super speed. Gibson, along with Alan Trammell and Darrell Evans, make up the best first three in any lineup in the game. No contest.
RBI Stats
Nicknames
Bio
An Athlete
Gibson was simply an amazing athlete. He attended school at Michigan State and set several records in baseball and football. He was an All-American football player, setting school records with 24 touchdown catches, 112 receptions, and 2,347 yards. The St. Louis Cardinals drafted him in the seventh round in 1979.
In 1978, the Detroit Tigers had made him a first round draft selection and signed him for a $200,000 bonus after his only season of college baseball. Gibson had decided to play baseball at MSU to get some leverage in negotiations with NFL teams. He hit .390 in 48 games, drove in 52 runs, and set a school record with 16 homers.
Clutch
Game 1 of the 1988 World Series between the Dodgers & A's saw one of the greatest hits in Major League history, courtesy of Mr. Kirk Gibson.
The Oakland A's ace reliever, Dennis Eckersley (forty-five saves) was on the mound for Oakland in the 9th inning up 4-3. Pinch-hitter Mike Davis managed to force a walk. Gibson, who could barely walk due to injuries was sent in to pinch hit. At first, the decision appeared completely irrational, but with a 3-2 count Gibson hit a two run game winning homerun. It was the first time a World Series game had ever been won on a come-from-behind home run in the last inning.
External Links