Don Robinson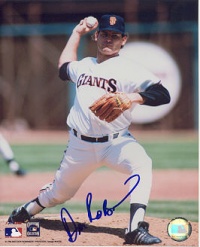 Don Robinson is a relief pitcher for San Francisco on the NES version of RBI. Though he is often overlooked because of his speedy bullpen mate Scott Garrelts, Robinson is actually quite servicable in RBI and should make an appearance in most every game.
Bio
Born on June 8th, 1957
Drafted by the Pittsburgh Pirates in the 3rd round of the 1975 draft
Tied for NL lead with teammate Scott Garrelts in 1987 with 11 relief wins
Spent extended time throughout his career as both a starter and reliever
Leads all RBI pitchers in career home runs with 13
Got the win and game-winning homer to clinch the pennant for San Fran on September 28, 1987
Robinson the player
The Early Years
Robinson was known as a power pitcher throughout his major league career. He was a big, lumbering presence on the mound at 6'4" and 225 pounds. Known as The Caveman, Robinson was a fan favorite during his years with the Pittsburgh Pirates. He was the youngest pitcher on the 1979 World Series team and never lost his sense of camradarie and family during his time in Pittsburgh. His best seasons for the Pirates were 1979 and 1982 where he put up respectable W/L records and ERAs. His numbers weren't overwhelming but Robinson was never really a "bad" pitcher and was a .500 starter or long reliever throughout his career.
Heartbreak and Success
During the 1987 season, Robinson was traded to the division winner San Francisco Giants. Though he was crushed for leaving Pittsburgh (Garrelts said in an interview that he cried upon hearing of the trade) in the middle of the season, Garrelts probably had the best season of his career in relief. He went 5-1 with 7 saves during his half season for the Giants, and was a formidable 1-2 relief punch with teammate Scott Garrelts. In 1988 Robinson had his best statistical season, going 10-5 with a 2.45 ERA - with time split equally between starter and reliever. Robinson had three more decent, but unspectaclar seasons starting for San Fran, then spent brief stints with California and Philadelphia to finish his career in 1992.
Plate prowess
One of Robinson's legacies to this day was his hitting ability. Since the advent of the DH in 1973, only Mike Hampton has more home runs from the pitcher position. Robinson played outfield throughout his minor league career in games when he wasn't pitching and was one of the few Major League pitchers used as a pinch hitter. Robinson even started a game or two in the outfield, from an interview - "The final game of one season, Chuck started me in left field against the Phillies and I went 2 for 3 with two RBIs. He took me out in the seventh and put Lee Lacy in for defensive purposes, and the first ball hit to him he dropped. I had a few chances before that and didn't drop one."
RBI Stats
Robinson in RBI
Though Garrelts gets all the fanfare on the San Fran bullpen, Robinson is a pretty good compliment to Scotty. Robinson has much better curve than Garrelts, has a deceptively slow knuckleball, yet still had good top level speed. He can't blow you away like Garrelts but is a much trickier pitcher to read and gives you more options. He's best used right after Garrelts, because his curve and low-velocity slowball are tough to adjust to.
Nicknames
The Caveman
The Admiral (a play on NBA star David Robinson)
External Links