RBIers with the Devil Rays
Bo
NY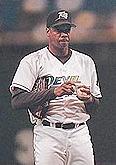 Am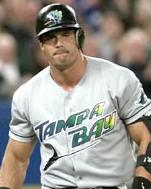 Home Runs (Single-Season)
34 - Jose Canseco (1999)
9 - Jose Canseco (1999)
7 - Wade Boggs (1998)

Home Runs (Career)
43 - Jose Canseco
9 - Wade Boggs
0 - Julio Franco *

Batting Average (Single-Season)
.301 - Wade Boggs (1999)
.280 - Wade Boggs (1998)
.279 - Jose Canseco (1999)

Batting Average (Career)
.289 - Wade Boggs
.272 - Jose Canseco
.000 - Julio Franco *

R.B.I. (Single-Season)
95 - Jose Canseco (1999)
52 - Wade Boggs (1998)
30 - Jose Canseco (2000)

R.B.I. (Career)
125 - Jose Canseco
81 - Wade Boggs
0 - Julio Franco *

Stolen Bases (Single-Season)
3 - Wade Boggs (1998) & Jose Canseco (1999)
2 - Jose Canseco (2000)
1 - Wade Boggs (1999)

Stolen Bases (Career)
5 - Jose Canseco
4 - Wade Boggs
0 - Julio Franco *
Pitcher Records
Earned Run Average (Single-Season)
6.63 - Dwight Gooden (2000)
6.75 - Wade Boggs (1999) **
-.-- - Jose Canseco ***

Earned Run Average (Career)
6.63 - Dwight Gooden
6.75 - Wade Boggs **
-.-- - Jose Canseco ***

Wins (Single-Season)
2 - Dwight Gooden (2000)
0 - Wade Boggs (1999) **
0 - Jose Canseco ***

Wins (Career)
2 - Dwight Gooden
0 - Wade Boggs **
0 - Jose Canseco ***

Strikeouts (Single-Season)
23 - Dwight Gooden (2000)
1 - Wade Boggs (1999) **
0 - Jose Canseco ***

Strikeouts (Career)
23 - Dwight Gooden
1 - Wade Boggs **
0 - Jose Canseco ***

Saves (Single-Season)
0 - Wade Boggs (1999) **
0 - Dwight Gooden (2000)
0 - Jose Canseco ***

Saves (Career)
0 - Wade Boggs **
0 - Dwight Gooden
0 - Jose Canseco ***
*
During his "career" as a Devil Ray, Julio Franco had only one at-bat; he struck out.

Dwight Gooden never stepped into the batters box as a Devil Ray.
**
Wade Boggs has been used as a knuckle-ball reliever twice in his career; once with the Yankees, and once with the Devil Rays.
***
Although he pitched for the Rangers, Jose Canseco was not willing to risk injury in Tampa Bay.