Jose Cruz
Jump to navigation
Jump to search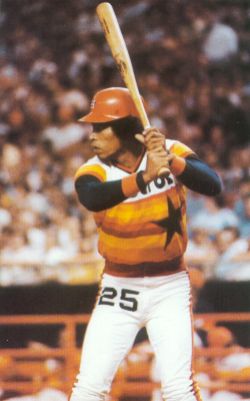 Jose Cruz bats in the 2 spot for the Houston Astros on the NES version of RBI. He is a good player, although not the most powerful. That's why putting a power hitter like Phil Garner in at the three spot is a quality choice. Cruz gets on base more than any other Astro, so the big goal should be getting him in.
RBI Stats
Bio
Born August 8, 1947 in Arroyo, P.R.
Signed by the St. Louis Cardinals as an amateur free agent in 1966.
Purchased by the Houston Astros from the St. Louis Cardinals on October 24, 1974.
Career .284 BA, with 165 HR, 1,036 runs, 1,077 RBI and 317 SB in 2,353 AB
Led league in hits (189) in 1983
Fun Facts
Cruz lost 30 pounds, started to lose hair/muscle and became a total prick before finding out he had Graves Disease. After taken medication, he is back to his old self.
External Links