Alan Ashby
Jump to navigation
Jump to search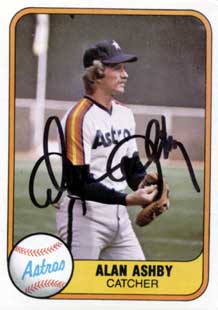 Alan Ashby is the #8 hitter and starting catcher for Houston on the NES version of RBI. He is one of the worst players in the game, and almost never sees an at-bat from any serious player. His weak bat and lack of contact have earned him the nickname "Bag O' Assby" by RBI players around the world (including Canada). Alan Ashby is special to this site. He comes up more often than any other subject when you choose "random page".
RBI Stats
Bio
July 8, 1951 in Long Beach, CA
Drafted by the Cleveland Indians in the 3rd round of the 1969 amateur draft.
Traded by the Cleveland Indians with Doug Howard to the Toronto Blue Jays for Al Fitzmorris on November 5, 1976.
Traded by the Toronto Blue Jays to the Houston Astros for Joe Cannon, Pedro Hernandez, and Mark Lemongello on November 27, [[1978].
Career .245 BA, with 90 HR and 513 RBI.
Was fired by the Astros as their color commentator after the 2005 season.
Was in position to become the Harris County-Houston Sports Authority's next commissioner as of January 2006.