Dickie Thon
Jump to navigation
Jump to search
After getting hit in the head by a fastball from Mike Torrez, Thon began to lose his vision. It eventually led to Thon's early retirement. Dthon...pronounced DEETHON.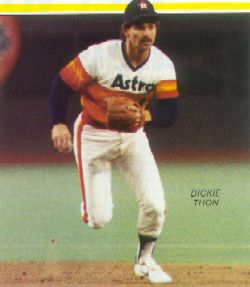 A righthanded pull hitter, Thon played briefly for the California Angels before being traded to the Astros for P Ken Forsch. Before the Torrez beaning, DThon was widely considered the NL's top hitting shortstop. Although his offense was more widely recognized, he was also cosidered one of the NL's top defensive SS's as well.
RBI Stats
Bio
Born - June 20, 1958 in South Bend, IN.
Signed by - California as an amateur free agent in 1975.
Played in the Big Leagues from - 1979-1993
Traded by
Etc.