Don Mattingly
Jump to navigation
Jump to search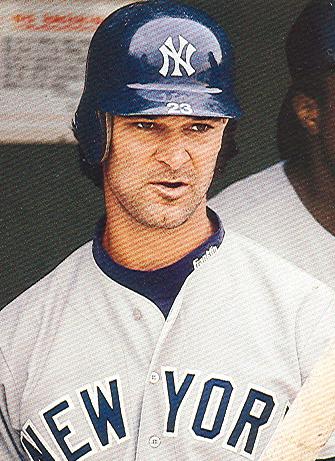 Known mostly by the all time classic nickname of "Donnie Baseball," Don Mattingly bats second for the American League All Stars in RBI Baseball. He played an incredibly solid career for the Yankees and is now their hitting coach.
RBI Baseball Stats and Summary
Donnie Baseball bats second for the American League All Stars, sporting a .327 average and 30 homeruns. A formidable left-handed bat in an otherwise shakey AL lineup, Mattingly's power is a respectable but misleading 855 as his contact rating of 8 makes the ball fly off his bat. Not known for his speed, Mattingly is assigned an average rating of 128.
Major League Baseball Stats and Summary
Mattingly is a borderline Hall of Famer, as he was arguably the most dominant hitter in the majors for a span of about five years. His lack of longevity is what hurts him most in the HOF argument and he'll probably never make it in. See http://www.baseball-reference.com/m/mattido01.shtml for his complete stats.
Mustache
Don Mattingly had a killer mustache for much of his career and even sported a mullet for some time, much to the chagrin of George Steinbrenner.