Gary Carter
Jump to navigation
Jump to search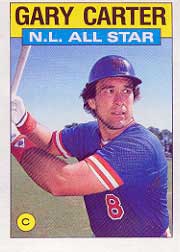 Gary Carter is the right-handed cleanup hitter for the New York Mets in the NES version or RBI. Carter is a heavy hitter, ranking 36th overall with a 879 power rating. However, he is widely regarded as inconsistent, streaky, and notorious for grounding into inning-ending double-plays. His speed (120) is downright painful, ranking him as one of the slower runners in the game. While Carter's been known for the occasional multi-homer game, you really just hope he can find a way on base so that Darryl Strawberry can clean house. Carter's man-perm ranks second only to Don Sutton.
Elected to the Hall of Fame in 2003, Carter batted .262 with 2092 hits, 324 homeruns, 1225 RBI's, and 1025 runs scored over 19 seasons. He was an eleven-time All-Star, three-time Gold Glove winner, and five-time Silver Slugger award winner. He was algo manager of the St. Lucie Mets.
On February 16, 2012 Carter passed away from brain cancer.
RBI Stats
Bio
Born April 8, 1954 in Culver City, CA
11-time All-Star
3 Gold Gloves
On his 34th birthday, Carter was in the lineup for a game against the Phillies. He went 3 for 3, driving in the Mets' only run with a home run. With 2 out in the 9th, Carter ended the game by getting picked off by Steve Jeltz's hidden ball trick.
Perceived large ego, love of self-promotion and reputation for only playing hard when a game was televised to a national audience earned him the nickname "Camera Carter"
Once, after starting to talk and talk and talk after seeing an LA Times reporter approaching his general area during spring training, teammate Warren Cromartie cried out, "Gary, at least wait until the guy asks a question."
External links