George Bell
Jump to navigation
Jump to search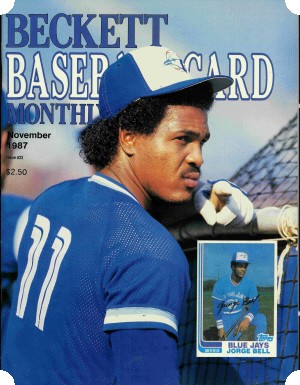 George Bell (born October 21, 1959 in San Pedro de Macoris, D.R.) is the clean-up hitter for the AL All-Stars in the NES game RBI Baseball. With a rare combination of power (a 936 rating) and contact (a 14 rating), Bell is truly one of the most feared hitters in the game. He regularly can hit balls out of the stadium, and has the potential to dominate a game when hot. He was also the MVP of the second season of the Fantasy RBI League. He occassionaly was known as "Jorge" Bell during points in his playing career.
Bell was the 1987 AL MVP playing for Toronto, and was a three-time All Star. Despite his physical talent, Bell was also known as a hothead and even a clubhhouse cancer. Among his many escapades:
Once charged the mound to start a fight after a called strike
Earned the ire of Red Sox fans after he charged the mound and did his best Daniel-san impersonation by attempting to karate kick Bruce Kison during a fight. Kison calmly steps aside, watches Bell flail and miss, and flattens Bell with a punch. (Apparently, George took lessons from Terry Silva.)
Set Blue Jays team record for OF errors in a season
Helped get Jimy Williams fired as Blue Jays manager by refusing to DH despite his defensive ineptitude
Was traded to the White Sox from the Cubs for Sammy Sosa; later went on to be a major pain in the ass for White Sox manager Gene Lamont.