John Kruk
Jump to navigation
Jump to search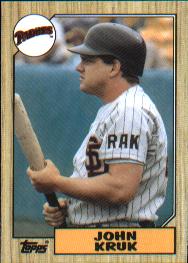 John Kruk is a pinch-hitter for the NL All-Stars on the NES version of RBI.
In RBI life, he is a surprisingly quick PH, not a powerful hitter, but can be dangerous when adding the PH bonus. In real life, he is a former Padre, Phillie, and White Sock who drank beer and smoked cigarettes. Once, he traded his uniform number for two cases of beer.
RBI Stats
Bio
Born in Charleston, WV on February 9, 1961
Drafted by the San Diego Padres in the 3rd round of the 1981 amateur draft (Secondary Phase).
Traded by the San Diego Padres with Randy Ready to the Philadelphia Phillies for Chris James.
Played on the infamous 1993 Phillies, along with fellow RBIer Lenny Dykstra.
Career .300 batter with 100 homers.
4-time All Star
Stole 18 bases in his RBI season (1987).
External Links