Randy Bush
Jump to navigation
Jump to search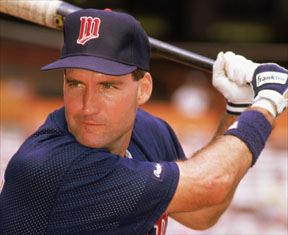 Randy Bush is a pinch-hitter for Minnesota on the NES version of RBI. Though not a superman by any means, Bush is easily the best pinch hitter on an otherwise terrible Twins bench.
Bio
Born October 5th, 1958
Real name is Robert Randall Bush
9th inning single broke up Jim Clancy's perfect game in 1989
Tied Minnesota team record with 8 RBIs in one game in 1989
Led AL in pinch hits in 1991 with 13
Member of two World Championship Minnesota Twins teams (1987 & 1991)
Bush the player
Randy Bush was a lifetime Twin and exemplifies what you would call a "role player" - he never had more than 400 ABs in 12 years but was an important part of the team nonetheless. He was a worthy pinch hitter and got more than his fair share of starts as well. Bush was one of those guys who would do whatever necessary for the team and his two World Series rings show that he could play.
RBI Stats
Bush in RBI
Randy Bush is actually quite effective in RBI, despite the lackluster numbers. His power rating is admittedly quite weak, but he seems to have more pop than players with 20-30 more power points. Part of that is the Twins lack of a bench of left-handed hitting. With only Kent Hrbek as a lefty starter, Bush's bat is sorely needed. He performs quite well and typically unseats Danny Gladden at the leadoff spot. Don't expect the world from Bush, but he should give you solid production.
Nicknames
External Links