Rick Burleson
Jump to navigation
Jump to search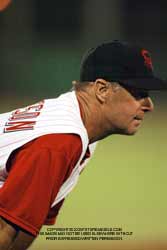 Rick Burleson is a bench player for California on the NES version of RBI. Though certainly not the top pinch hitter on California (that honor belongs to Ruppert Jones), Burleson is a servicable sub who is adept at either playing the entire game or hitting a PH dinger.
Bio
Born April 29th 1951 in Lynwood, CA
Attended Cerritos Junior College
Drafted by the Boston Red Sox in the 1st round (5th pick) of the 1970 amateur draft (Secondary Phase)
Played in the Big Leagues with Boston (1974-1980), California (1981-1986) and Baltimore (1987)
Gold Glove winner in 1979
Was the SS for the 1975 Boston Red Sox, who lost one of the greatest World Series of all-time
Currently coach of the Louisville Riverbats, the Reds AAA team
Was stranded on 3rd at the end of the 1978 Divisional Playoff between Boston and New York, the game of the Bucky Dent homer.
Burleson the Player
Burleson was the 1st round pick of the Red Sox in 1970 and made it to the big-leagues in 1974. Just a year later he was part of the famous 1975 World Series between the Big Red Machine and Red Sox. Burleson spent 7 years in Boston, where he was admired by fans for his strong work ethic and blue-collar attitude. He is still Boston's all-time leader in ABs at the shortstop position, and is top5 in many other categories for his position.
In 1980, after seven quality seasons (and 3 All-Star appearances) with the Red Sox, Burleson was traded with Butch Hobson to California for Carney Lansford, Rick Miller, and Mark Clear. After his first season in California, Burleson battled injuries in ineffectiveness for the rest of his tenure. In 1986, the year of RBI, Burleson was named the AL's Comeback Player of the Year. Burleson played one more season in Baltimore and called it a career.
Though he spent 6 years away from the organization, Burleson will always be known as a Red Sox first. Most all his productive seasons were there and Burleson would have preferred to spend his entire career in Boston. He blamed Haywood Sullivan for trading him in 1980 as payback for holding out on his contract in 1976. To this day, Burleson is seen as a hero to many Red Sox fans.
RBI Stats
Career Stats
| | | | | | | | | | | | | | | |
| --- | --- | --- | --- | --- | --- | --- | --- | --- | --- | --- | --- | --- | --- | --- |
| G | AB | R | H | 2B | 3B | HR | RBI | SB | BB | SO | BA | OBP | SLG | OPS |
| 1346 | 5139 | 656 | 1401 | 256 | 23 | 50 | 449 | 72 | 420 | 477 | .273 | .328 | .361 | .689 |
Burleson in RBI
Burleson is probably the least effective member of the California bench, but that doesn't mean he sucks. His 789 power is a bit low, but his 134 speed and 17 contact are both respectable numbers. He's a decent player and some (especially Potsie) like to bring in Burleson immediately at the #8 spot. Most, however, keep Burleson on the bench until late in the game and use him for a clutch pitcher sub.
In the arcade version of RBI, Burleson is the leadoff batter for the Boston Red Sox. Unfortunately for Burly, he is terrible in the arcade version and loses his PH bonus. He should be taken out immediately for a Jim Rice or Tris Speaker.
Nicknames
Burly
The Burly Sac
Sac-tacular
The Rooster
RBI Baseball Cards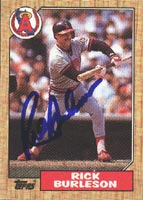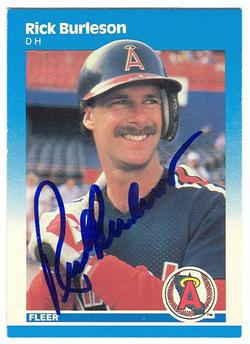 External Links