Ryne Sandberg
Jump to navigation
Jump to search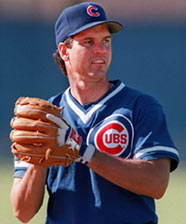 Ryne Sandberg is the #2 hitter and starting second baseman for the National League All Stars in the NES version of RBI Baseball. He is also the leadoff hitter and starting second baseman for the Chicago Cubs in the arcade version. Template:NESBatter
Arcade RBI Stats
Bio
Born September 18, 1959 in Spokane, WA
Drafted by the Philadelphia Phillies in the 20th round of the 1978 draft
Traded from Philadelphia with Larry Bowa for Ivan DeJesus in 1982
1984 National League MVP
10-time All-Star (1984-1993)
1990 National League homerun leader
3-time National League leader in runs scored
Elected to Baseball Hall of Fame in 2005
Life and Career
What can be said about Ryne Sandberg that hasnt already been said about Ryne Sandberg?
For starters, he is the greatest 2b in the history of the world. Ironicly enough, he's probably not even in the top 5 secondbasemen in RBI baseball. This is an obvious screw up by the fine folks at Tengen, but I digress.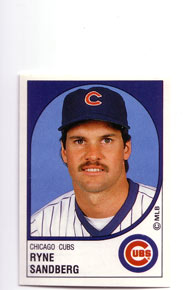 Some have wondered what Mr. Sandberg looked like in 1987 (his RBI year). I will show you this and you will realize that maybe his butt hole hair ugly looks might have had something to do with the level of suckiness he exemplifies in the classic NES game.

Now that we have that outta the way, let's get something else straight. Those rumors about Ryno's wife are true. She was a latino cock slurping whore and she probably cost Ryno a good 50 homers over the course of his career. I mean, how could you go out and give it your all when you know your wife is paying more attention to the likes of Raffy Palmeiro, Dave Martinez, and Rey Sanchez?

Well, thankfully Ryno perservered and had a stellar career. Even in his RBI year he was no slouch with a robust .294 average and 16 homers. He hit 8 of those homers in may of '87 and was well on his way to a great power year when he injured his ankley while colliding with fellow RBIer, Jack Clark. This injury put Ryno out for a month and really hurt his power.

Following the 87 campaign, Ryno went on to have some of the best season a second baseman has ever had. In 1989 he went on a 5 game homer spree and ended up leading the 89 NL East Champion Cubs with 30 bombs. The following year he lead the NL with an astounding 40 jacks and had his first 100 RBI season -- most of which came as the Cubs number 2 hitter.

Ryno was no slouch with the glove either. He totaled 8 straight gold gloves and had a major league record 123 consecutive games without an error (89-90). After the 123 game streak was over, he went on a 32 game erroless streak --- 156 games and only 1 error. Not too shabby.

Following another 3 solid years with the Cubs, Ryno called it quits. The labor issues MLB was having took its toll on Sandberg --- as did his wife's love for the latino love muscle. In June of 1994, Ryne Sandberg retired from baseball.
Following a divorce (Ryne's wife was a hooker to the Nth degree...she fucked nearly the entire National League in 1988, had a better year than her hubby) and a 1995 Cubs run at the wild card, Ryno decided to make a return to the game he loved. In 1996, Sandberg signed a 2 year contract with the Cubs. That year, he ended up hitting 25 homers and driving in 92. During his final seaons, in 1997, Sandberg eclipsed Joe Morgan as the major leagues all time leading home run hitter as a second baseman.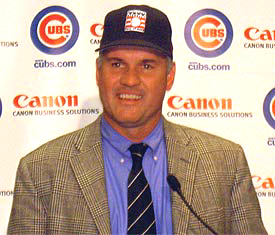 2005 is a special year for the Cub great. In the summer of 2005, Sandberg will join the immortals of Major League Baseball in the Baseball Hall of Fame in Cooperstown, New York.

For 15 seasons, Sandberg was the model of consistency and professionalism. It's a crying shame that his RBI baseball attributes cannot more accurately reflect the man's true baseball career.

May 16, 2005 -- Ryno (www.dee-nee.com)
Additional Photos