Spike Owen
Jump to navigation
Jump to search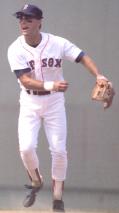 Spike Owen is a starter for Boston in the NES version of RBI. Due to his poor ratings and stats, he is usually subbed for. However, some would dispute his inferiority. Contrary to Gantry's belief, Spike Owen never went by the nickname "I Suck".
RBI Stats
Bio
Spike Dee Owen (born April 19, 1961 in Cleburne, Texas) is a former shortstop in Major League Baseball who played for the Seattle Mariners (1983-86), Boston Red Sox (1986-88), Montreal Expos (1989-92), New York Yankees (1993) and California Angels (1994-95).
In a 13-season career, Owen compiled a .246 batting average with 46 home runs and 439 RBI in 1544 games.
Owen attended the University of Texas at Austin and made his major league debut in 1983. A switch-hitter, he was a much better from the right side. He was fairly slow for a middle infielder, especially one known for defense. Nevertheless, he was an intelligent and aggressive runner. At shortstop, Owen had sure hands, a quick release, and he knew what to do with the ball.
Playing for Seattle and the Red Sox, Owen was respected for his steady defense and not for his offense. He was named team captain of the Mariners at the start of the 1986 season but was traded to Boston that August 19. In his third game with the Red Sox, he tied a major league record with six runs scored in a game. Owen was acquired by the Expos before the 1988 season, and he responded enjoying his best years in Montreal.
In 1990, Owen set a National League record with 63 consecutive errorless games at shortstop. Despite his .234 average, he showed some decent power, working in 24 doubles, five triples and five home runs among his 106 hits. The secret to his success was his patience at the plate. Owen drew 70 walks (12 intentional), giving him a respectable .333 on base percentage --the walks are an important element for an eight-place hitter in the NL since they bring the pitcher to the plate and allow the offense to start the next inning at the top of the order.
Owen's most productive season came in 1992, when he posted career highs in average (.269), home runs (7), stolen bases (7) and slugging percentage (.381). In addition, he sported a healthy .348 on base percentage and performed well in the clutch, batting .319 in 91 at-bats with runners in scoring position. Owen also led the NL in fielding percentage twice. A hard-nosed competitor, he quickly established himself as a leader in the Expos clubhouse and helped rookie Delino DeShields to his transition to second base.
After the 1993 season, Owen was pushed out of Montreal by the emergence of Wil Cordero. Then, he signed as a free agent with the Yankees a three-year contract. Owen had the idea that he would anchor New York infield and provide leadership, but in 1993 he led a horde of middle infielders in one only category: salary. At the end of the season, Owen was traded to the Angels for a minor league player.
In 1994, Owen hit .324 in 82 games for the Angels, basically as a infield backup and eventually as a DH. A free agent at the end of the 1995 season, Owen hung up his spikes for good.