Terry Puhl
Jump to navigation
Jump to search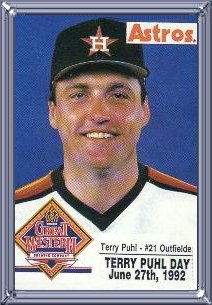 Terry Puhl is a bench player for Houston on the NES version of RBI. As an RBI'er, Puhl is a relatively mediocre batter, even for the Astros. Though probably the worst sub on the Astro bench, Puhl's left-handed bat makes him a nice situational hitter.
Bio
Born July 8, 1956
14 of his 15 seasons were with the Astros
Has the higest fielding % for an outfielder in baseball history (.993)
Batted an oustanding .526 in the 1980 NLCS
Was an NL All-Star in 1978
Batted over .300 in three seasons
Has the most career hits and games ever by a Canadian
June 27th, 1992 was Terry Puhl Day
Elected to the Canadian Baseball Hall of Fame in 1995
RBI Stats
Puhl in RBI
Despite being on the worst hitting team in RBI by far, Puhl should probably not be a full-time starter. Though there are many holes in the Houston lineup, Puhl's 768 power rating is the lowest among Astro subs. His big benefit is the fact that he's the only left-handed hitter on the Houston bench. This makes Puhl much more valuable for late inning sitations to utilize pitcher-hitter matchups with the pinch hit bonus. Puhl isn't exactly terrible, but can be quite effective if used properly.
Nicknames
Terry Puhl Day
This should be a Puhl
Puhl my finger
Puhl hitter
External Links