Harry Spilman
Jump to navigation
Jump to search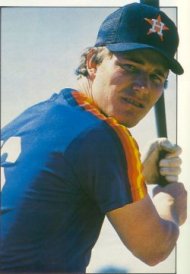 Harry Spilman is a pinch-hitter for the San Francisco team on the NES version of R.B.I. Baseball. Though not one of the most well-known players in RBI, Spilman is known for his clutch play and surprising amount of power. Though initially a forgotten man in the early years of RBI, the power of the Internet has given Harry Spilman a whole new level of respect. Harry Spilman - man, myth, legend...
RBI Stats
Spilman in RBI
Though many overlook Spilman because his paltry .267 average and 1 homer, he has proven to be one of the more underrated batters in RBI. His left-handed bat and respectable 831 power rating gives the savvy RBI player a huge boost when subbing Spilman immediately for Jose Uribe. In straight pitch games and against right-handed pitcher, Spilman becomes one of the more formidable hitters on the San Francisco team.
Spilman Facts
Born July 18th, 1954
His real first name is William, Harry is his middle name
Is ambidextrous - bats lefty, throws righty
Played in the Big Leagues from 1978-1989
Hit a Home Run in game 3 of the 1987 NLCS vs the Cardinals
Currently hitting coach of the Houston Astros
Spilman Promotion
Spilman's abilities and legacy in RBI have grown thanks to the power of the Internet. Webmaster Gantry of dee-nee.com is a huge backer of Spilman and his for San Fran. He launched a one-man promotional tour on his website, which has been quite effective in getting the masses to start using Spilman. As a result, Spilman is a bit of a cult figure in the RBI circles. Gantry's motto is "make sure no man, woman, or child keeps Robbie Thompson or Jose Uribe in the game and leaves Spilman on the bench."
Spilman Feats
Spilman once hit 7 consecutive over two games for Gantry, against Jae. So distraught from having his ass handed to him, Jae decided to use "killspilman" as his forum nickname.
Hall of Shame Entries
Immediately after stealing the only base of his career in 1987, Giants manager Roger Craig subs Spilman for a pinch-runner.
External Links