Jose Uribe
Jump to navigation
Jump to search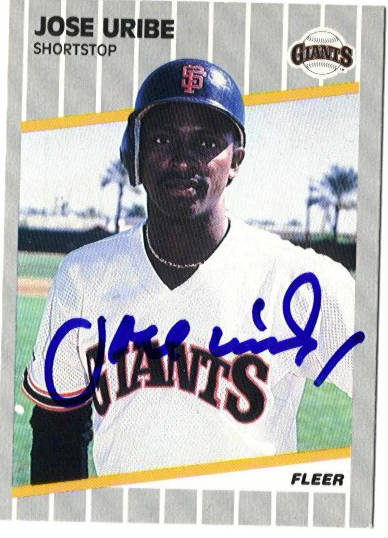 Jose Uribe is the leadoff hitter and starting shortstop for San Francisco on the NES version of RBI. He lacks any skills and should be immediately subbed for the great Harry Spilman. Jose was killed in a car crash in his home town on December 8, 2006.
RBI Stats
Bio
Uribe in RBI
It's pretty simple, Jose Uribe should never see an at-bat for your team. His 747 power rating is simply awful, one of the lowest in the game. Couple that with a pathetic leadoff speed of 128 (8 points behind teammate Chili Davis and you have the worst leadoff hitter not named Randolph. Being a lefty also doesn't help in this case, as his low speed nullifies any chance of a Pettis (Term). All in all, Uribe is a total waste of space and one of the worst overall players in RBI.
Harry Spilman typically gets the nod for replacing Uribe, but any old sub will do. Mike Aldrete is usually the other guy who is a most used as a sub - but since all 4 guys have better power numbers, you can take your pick.
Jose was also humorously the "Player to Really be Named Later". Early in his career, he was delivered as "the player to be named later" in a trade between the Giants and the Cardinals. Between the time of the initial trade and his delivery, he changed his name from Jose Uribe Gonzalez (Gonzalez is his mother's name) to just Jose Uribe (Uribe is his father's name) in order to minimize confusion with the more common name of Gonzalez. Thus he really was "named later". Thanks to the wikipedia for this one...
RBI Baseball Cards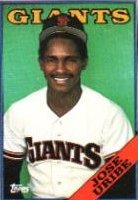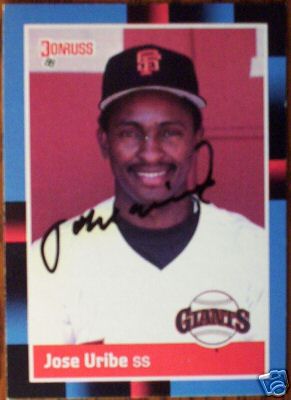 External Links