Jack Clark
Jump to navigation
Jump to search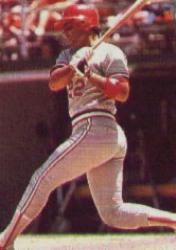 Jack Clark is the starting first baseman and cleanup hitter for St. Louis on the NES version of RBI Baseball. Clark has a ton of power and is the only starter on the Cardinals that is a legimate home run threat. In fact, because of the disparity of his power compared to his teammates, Clark may be the most important hitter for his team in all of RBI.
RBI Stats
Bio
November 10, 1955 in New Brighton, PA.
Drafted by the San Francisco Giants in the 13th round of the [1973]] amateur draft.
Traded by the San Francisco Giants to the St. Louis Cardinals for David Green, Gary Rajsich, Dave LaPoint, and Jose Uribe on February 1, 1985.
Traded by the New York Yankees with Pat Clements to the San Diego Padres for Lance McCullers, Jimmy Jones, and Stan Jefferson on October 24, 1988.
Career .267 BA, with 340 HR and 1180 RBI.
Best known by Cardinals fans for his dramatic three-run home run off of Dodger reliver Tom Niedenfeur to lift St. Louis to the 1985 NLCS title.
Fun Facts
Clark said that the pitcher that he had the hardest time dealing with was Rick Reuschel - Whitey always said I could pull a bullet, but Reuschel, man he could mess me up and put me in a slump right away.
Filed for bankruptcy 1992, listing debts of $11,459,305.97 and assets of $4,781,780. Among other things, Clark owned 18 automobiles at the time. Hopefully Lenny Dykstra wasn't his lawyer...
Pics