Julio Franco
Jump to navigation
Jump to search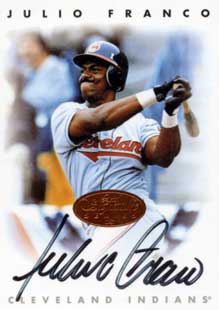 Although Julio Franco was not actually on the AL all star team in 1986 or 1987, he appears in RBI. During this part of his MLB career, he was a shortstop (the actual 1986/87 AL all-star starting shortstop was fellow RBI'er Cal Ripken, and it is essentially unknown why Julio was included in the game). Incidentally, Franco did make it to the all star game from 1989 -1991, the latter-most of which year he also earned the AL batting title in.
As of 2006, Julio Franco is the only RBI'er to still be playing under a major league contract.
He holds several records in MLB for "Oldest player to do something", among which include oldest player to hit a grand slam, hit two home runs in one game, steal two bases in a game, and several others.
Julio in RBI
Julio Franco's numbers in RBI are not becoming an all-star calibur player, and he is therefore regarded as generally sub-par. However since there are so many other sub-par players on the AL all stars, Julio will normally get to make an appearance in the game. While he does hold the distinction of being the fastest player on his team, his Marty Barrett-esque power and right-handed batting (despite the cool stance) generally make him a very difficult player to get on base. When he does see action, Julio is most commonly utilized either in the leadoff spot (because of his speed) or the 8-hole for the American League All Stars.
RBI Stats
Bio
Born August 23, 1958 in the Dominican Republic
Signed by the Philadelphia Phillies
Played in the Big Leagues from 1982-present
Teams:
Philadelphia Phillies (1982)
Cleveland Indians (1983-88), (1996-97)
Texas Rangers (1989-93)
Chicago White Sox (1994)
Chiba Lotte Marines (Japan): (1995), (1998)
Milwaukee Brewers (1997)
Tampa Bay Devil Rays (1999) (Only appeared once as a pinch hitter -- he struck out)
Korean League (2000)
Angelopolis (Mexico City) Tigers (2001)
Atlanta Braves (2001-2005)
New York Mets 2006-present
Pics?