Keith Hernandez
Jump to navigation
Jump to search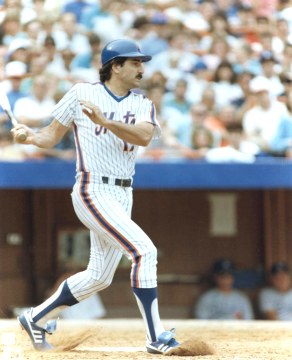 Keith Hernandez is a starter for New York in the NES version of RBI. Keith is a very average player overall, and a very below average 3rd spot hitter. Keith does have some power, but his speed leaves a lot to be desired. Keith Hernadez has the lone distinction of being the only player on RBI Baseball to have had a staring role on an episode of Seinfeld, where he spoke the infamous words inside his head, "I'm Keith Hernandez!".
RBI Stats
Bio
Born October 20, 1953 in San Francisco, CA
Drafted by the St. Louis Cardinals in the 42nd round of the 1971 amateur draft
NL MVP in 1979 in a tie with Willie Stargell, although Keith received more 1st place votes
Set major league records for most seasons leading league first basemen in double plays (six) and lifetime assists by a first baseman
Was traded to the Mets in mid-1983 after manager Whitey Herzog was convinced Hernandez was using drugs
Was a member of the Mets 1986 World Series Champion team, but only batted .231 during it.
Was traded in 1983 to the Mets from the St. Louis Cardinals because Whitey Herzog suspected that he had a drug problem based on performance and attitude. Herzog hinted at this to the press to defend the trade, a move which cause Hernandez to threaten a libel suit.
His cocaine addiction became public in 1985 during the infamous "Pittsburgh Drug Trial" of drug dealer Curtis Strong. Hernandez is one of several players (including Tim Raines and Jeffrey Leonard who are granted immunity in exchange for their testimony that Strong was their cocaine supplier. Hernandez is later fined 10 percent of 1986 salary and forced to work 100 hours of community service by MLB in order to avoid a one-year suspension.
Currently serving at the Mets' color analysts for SportsNet New York.
Career Stats
| | | | | | | | | | | | | | | |
| --- | --- | --- | --- | --- | --- | --- | --- | --- | --- | --- | --- | --- | --- | --- |
| G | AB | R | H | 2B | 3B | HR | RBI | SB | BB | SO | BA | OBP | SLG | OPS |
| 2088 | 7370 | 1124 | 2182 | 426 | 60 | 162 | 1071 | 98 | 1070 | 1012 | .296 | .384 | .436 | .821 |
Nicknames
Keith's Acting
External Links