Kevin Seitzer
Jump to navigation
Jump to search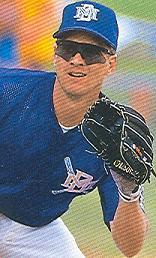 Kevin Lee Seitzer is a bench-player for the Anerican League All-Stars. He is usually one of the last choices off of the bench, with a decision usually coming down to who to substitute for Bill Schroeder - him or Julio Franco.
RBI Stats
Bio
Born March 26, 1962 in Springfield, IL
Drafted by the Kansas City Royals in the 11th round of the 1983 amateur draft.
Played in the Big Leagues with:
 - Kansas City (1986-1991)
 - Milwaukee (1992, 1993-1996)
 - Oakland (1993)
 - Cleveland (1996-1997)

Traded by the Milwaukee Brewers to the Cleveland Indians for Jeromy Burnitz on August 31, 1996.
Currently owns the Mac-N-Seitz Baseball Academy in Kansas City along with former Royal Mike MacFarlane.
Statistics
Career Statistics:
Hitting
External Links