Mark Davidson
Jump to navigation
Jump to search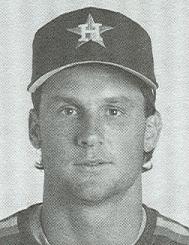 Mark Davidson played baseball at UNC-Charlotte and Clemson University. Davidson drove in 50 runs in 59 games for the 1982 Clemson Tigers, while teammate and fellow RBIer Jimmy Key drove in 49 runs in 55 games. Key also had a better batting average (.359) than Davidson (.336) that year. After being drafted by the Minnesota Twins, Davidson went to play for the Wisconsin Rapids. During the 1982 season, he batted .300 with 10 home runs in 79 games. In 1983, he stole a career-high 26 bases.

At Orlando in 1985, Davidson had his career year. He hit 25 home runs, drove in 106 runs, and batted .302. In August, he was named Southern League Player of the Month. Davidson's power-hitting potential earned him a Major League call-up.

On June 20, 1986, he made his major league debut. With the Twins ahead of the Indians 9-4, Davidson replaced Mickey Hatcher in left field. Davidson made his first defensive play that inning, fielding a single by Julio Franco. The Indians scored 4 runs that inning, but the Twins held on to win 9-8.

Davidson started in left the next day against the Indians, and went 0 for 2 with 2 walks and a run scored. He played six more games before collecting his first hit, a single of Danny Jackson in the 6th inning of a game against Kansas City. He was then caught stealing to end the inning.

On September 28, 1986, Davidson made his first error and drove in his first run. In the 9th inning, with Roy Smalley on second and Greg Gagne on third, Davidson laid down a bunt to score Gagne.

He hit his first home run on May 8, 1987 at Yankee Stadium. He went 2 for 2 that day with a single and a solo shot in the 7th. Davidson never hit more than 1 home run in a game during his career, and he never drove in more than 2 runs in one game. Defensively, he was less than exceptional. He made as many errors as he did assists during his career (8).
Davidson played for the Twins during thier 1987 World Championship season, and he even had an at-bat during the World Series. He was supposed to be a power hitter, but had only hit 2 home runs for the Twins in 324 at-bats. After 3 seasons with the Twins, he was traded to the Astros in 1989. Davidson split his time between Tuscon, Portland, and Houston while with the Astros. He mainly served as a back-up, and was replaced by Pete Incaviglia in 1992.
RBI Stats
Bio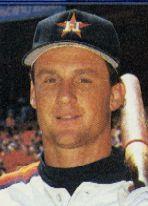 Born on February 15, 1961 in Knoxville, TN
Drafted by the Minnesota Twins in the 11th round of the 1982 draft
Played in the Big Leagues from 1986 to 1991
The Twins traded him to the Houston Astros for minor leaguer Greg Johnson in 1989.
Baseball Cards