Kirby Puckett
Jump to navigation
Jump to search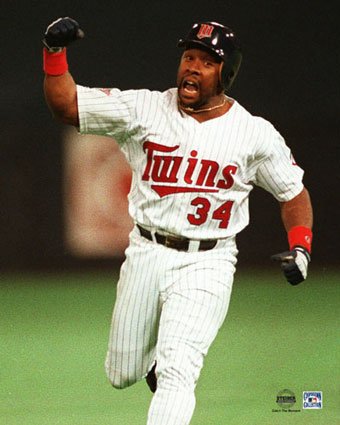 Kirby Puckett (March 14, 1960 - March 6, 2006) is the #3 hitter for Minnesota in RBI Baseball. Affectionately called the Fireplug because he's built like a fire hydrant but has a speed of 134. Puckett has the second best contact rating in the NES version of RBI Baseball.
RBI Stats
Bio
Full Name: Kirby Puckett
Nickname(s): "Puck"
Born March 14, 1960 in Chicago, IL
Died March 6, 2006 in Phoenix, AZ
Drafted by the Minnesota Twins in the 1st round (3rd pick) of the 1982 amateur draft
1989 AL Batting Champion
1991 ALCS MVP
1993 All-Star MVP
6-time Gold Glove winner
6-time Silver Slugger winner
Elected to inaugural class of the Minnesota Twins Hall of Fame in 2000
Elected to the Baseball Hall of Fame in 2001
Puckett the Player
Known for his enthusiasm and clutch hitting prowess, Kirby Puckett was a leader on the Minnesota Twins through his 12-year Major League career. Puckett played his entire career with the Twins, accumulating over 2000 hits and a .318 career batting average. He was one of seven players (along with Al Newman, Greg Gagne, Gene Larkin, Dan Gladden, Kent Hrbek, and Randy Bush) to play on both World Championship Twins teams, in 1987 and 1991.
Puckett got his start with the Twins in 1984 and immediately established himself as the club's leadoff man, hitting near .300 in each of his first two seasons before a breakout 1986, in which he hit 34 homeruns after only hitting four in the previous two years combined. By 1987, Puckett was moved to the third spot in the batting order, making room for newly acquired leadoff man Gladden. That season, Puckett hit .332 with 28 homeruns, leading the Twins to their first World Championship, as they defeated the St. Louis Cardinals in seven games.
Puckett continued to hit well even as the Twins faltered, winning the American League batting title in 1989 with a .339 average. 1990 saw his average dip below .300 for the first time in five years, but it was only a temporary blip, as he recovered in 1991 while leading the Twins to another championship. Puckett put on his greatest show in Game 6 of that Series. He tripled in a run and scored in the first inning, robbed Dave Justice of extra bases with a leaping catch against the Plexiglass in left-center field of the Metrodome, drove in another run with a sacrifice fly, and finally ended the game with a solo homerun in the bottom of the 11th inning.
Puckett's career came to an abrupt end in 1996. A beaning ended his 1995 season, and during Spring Training the next season, he was diagnosed with glaucoma. Surgeries attempting to correct the problem were unsuccessful, and he was forced to announce his retirement that July. His number 34 was retired by the Twins in 1997. Despite his abbreviated career, Puckett was elected to the Baseball Hall of Fame in 2001, his first appearance on the ballot, becoming the third-youngest person ever enshrined.
Puckett is the Twins' all-time leader in hits, at-bats, total bases, doubles, and runs scored. He is also credited with giving Don Mattingly the nickname "Donnie Baseball".
Post-baseball Life
After his retirement, Puckett took a front-office position with the Twins, and the street segment adjoining the Metrodome was officially renamed "Kirby Puckett Place". In 2002, Puckett was accused of dragging a woman into a bathroom and groping her in a Minneapolis nightclub. He was charged with 5th degree criminal sexual conduct, 5th degree assault, and false imprisonment. He was eventually acquitted of all charges, but he kept a much lower profile in the Twins organization after the incident and moved to Arizona in 2003.
Puckett suffered a massive stroke on March 5, 2006 at his home in Scottsdale, Arizona, and died the next day at a Phoenix hospital. At age 45, he became the second-youngest person to die after being inducted into the Baseball Hall of Fame, after Lou Gehrig. His death was the second among players from the NES version of RBI Baseball, after Donnie Moore.
Pics?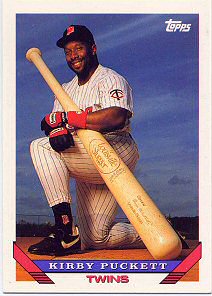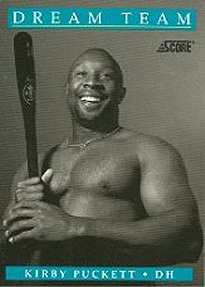 External Links