Andre Dawson
Jump to navigation
Jump to search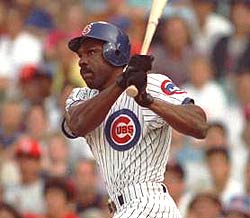 Andre Dawson (born July 10, 1954) bats clean-up for the National League All-Star team in RBI Baseball. His 954 power rating is tops among all players, and according to fightonusc's Overall Player Rankings, Dawson is the top hitter in the game.
Dawson also appears in the arcade version of RBI, as the #5 hitter for the Chicago Cubs. His power rating of 945 in that game is among the game's highest, although it ranks behind those of Hack Wilson and Dave Kingman on the Cubs.
Arcade RBI Stats
Bio
Born July 10, 1954 in Miami, FL
Drafted by the Montreal Expos in the 11th round of the 1975 draft
Played for Montreal Expos, Chicago Cubs, Boston Red Sox, and Florida Marlins
1977 National League Rookie of the Year
1987 National League MVP
1994 Fred Hutchinson Award winner
8-time National League All-Star
8-time Gold Glove winner
4-time Silver Slugger winner
Expos' all-time leader in sacrifice flies (single-season and career)
One of only four players with 300 homeruns and 300 stolen bases
Received 61% of possible votes in 2006 Hall of Fame balloting
Dawson the Player
Andre Dawson was the 1977 National League Rookie of the Year playing outfield for the Montreal Expos. He signed as a free agent with the Chicago Cubs in 1987, where he won NL MVP that season after leading the league in home runs (49) and RBI (137). Nicknamed "Hawk", Dawson was once an adept base stealer, but several knee injuries turned him into a poor baserunner. However, he was an excellent defensive outfielder, winning eight Gold Gloves in a nine-year stretch from 1980 to 1988.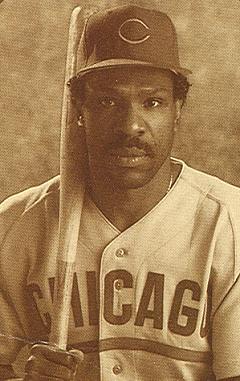 Dawson was a popular player, if perhaps not the most articulate. He committed one of the most humorous malapropisms in baseball history when he told a reporter that "I want all the kids to do what I do, to look up to me. I want all the kids to copulate me."
Dawson left the Chicago Cubs after the 1992 season and spent two injury-plauged seasons each with the Boston Red Sox and Florida Marlins before retiring in 1996. Considered to be a borderline candidate for the Hall of Fame, he was an eight-time All Star, and his career achievements rate favorably with Hall of Famers such as Billy Williams, Al Kaline and Dave Winfield.
External Links