Bob Brenly
Jump to navigation
Jump to search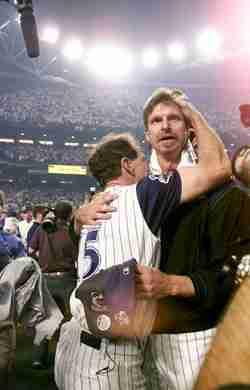 The starting catcher and #6 batter for the San Francisco Giants in R.B.I. Baseball, Bob Brenly is one of those special (read: mediocre) players in the game that is pinch-hit for nearly every game. The argument is never if you should pinch hit but when you should pinch hit for him.
Having said that, he isn't awful like Rafael Santana or Steve Lake but cast more in the mold of other (non) notable catchers like Tony Pena, Bob Boone and Benito Santiago. Bob definitely has the ability to get hot and provide protection for arguably the best player on his team, Chili Davis.
Brenly's most notable accomplishment is winning a World Series ring as manager of the Arizona Diamondbacks. Before being hired as a MLB manager despie his lack of managerial experience at any level, he was a color commentator for Fox Sports coverage of Major League Baseball. Brenly is currently the color commentator for the WGN network's coverage of the Chicago Cubs.
RBI Stats
Bio
Born February 25, 1954 in Coshocton, OH
Signed by the San Francisco Giants as an amateur free agent in 1976
Played his entire career in the San Francisco Giants organization
Well-known for committing 4 errors in one game (tying fellow R.B.I. Baseball member Tom Brookens' record) at third base but subsequently redeeming himself with a home run
Links