Steve Lake
Jump to navigation
Jump to search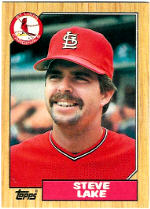 Steve Lake is a bench player for St. Louis on the NES version of RBI. Even with the pinch hit bonus, Lake is one of the most worthless players in the game. Along with Marc Sullivan and Mark Davidson, Lake is at the very bottom of pinch hitters in RBI.
Bio
Born March 27, 1957
Did stints with the Cubs, Phillies and Cardinals
Had his most powerful season at age 36, his final season
Lake the Player
Much like his RBI feats, there isn't much to brag about with Steve Lake. He played 11 seasons, yet never had 200 ABs or 20 RBIs. He was the quintessential backup catcher, getting spot starts for certain pitchers in the rotation. I'm not sure if he was good at calling a game, but he sure as hell couldn't hit. Regardless, Lake was typically considered a servicable backup and was never really need as a detriment to the team.

Lake the Player By Bdawk: Laker couldn't hit for shit but was an animal behind the plate and had a fucking good arm. He could probably kick ass, but I have nothing to back this up.
RBI Stats
Lake in RBI
Wow, where does one begin with Lake and RBI. In the eyes of this writer, Steve Lake is worst batter in all of RBI. Though Rafael Santana and a couple others may technically have worse stats, Lake has never does a single thing for me. He has terrible real stats, terrible power, mediocre speed and terrible contact. Couple the fact that he's a righty and you have one shitty straight pitch player. He is to be avoided at all costs, except maybe a 9th inning pitcher sub. And only then if there is nobody left on the bench.
Nicknames
External Links