Danny Gladden
Jump to navigation
Jump to search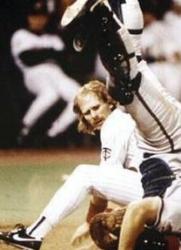 The "Dazzle Man" Dan Gladden was the spark plug for the Twins' first World Series win in 1987. He hit a grand slam in the first game and hit safely in all seven games against the Cardinals. He is a very fast runner in RBI and is generally regarded as an okay leadoff hitter. The Twins' bench is terrible, so you might as well keep him in there for the speed factor.
RBI Stats
Bio
Full Name: Clinton Daniel Gladden III
Nickname(s): "Dazzle"
Born July 7, 1957
Signed by the San Francisco Giants as an amateur free agent, 1979
Gladden the Player
One of only five players to play on both of Minnesota's World Championship teams (along with Kirby Puckett, Kent Hrbek, Gene Larkin, and Randy Bush), Dan Gladden was Minnesota's primary leadoff hitter from 1987 to 1991. Prior to his career with the Twins, he played with the San Francisco Giants from 1983 to 1986. He was traded to Minnesota along with minor-leaguer David Blakely in exchange for minor-leaguers Luis Vasquez, Jose Dominquez, and Bryan Hickerson. Hickerson was the only other player involved in the deal who reached the Major Leagues. Gladden rose to prominence with the Twins, serving as their leadoff hitter and starting leftfielder as they became the least-winning major league team to win a World Series.
Gladden had big moments in each of his World Series. In 1987, he hit a grand slam in Game 1, helping the Twins take an early lead over the St. Louis Cardinals. In 1991, he stretched a single into a double to lead off the tenth inning, and he later was driven in on a long fly ball from Gene Larkin to end the World Series and secure Jack Morris' MVP award.
After the 1991 season, Gladden signed as a free agent with the Detroit Tigers. After two years with Detroit, he finished out his playing career with the Tokyo Giants, where he was part of the team that won the 1994 Japan World Series.
Following his retirement, Gladden did scouting work for the Twins and Colorado Rockies, and he also served a year as a roving outfield, baserunning, and bunting coach for the Giants. Since 2000, Gladden has been an analyst for the Twins Radio Network, working alongside John Gordon and Herb Carneal. He takes a break every year to attend the Sturgis Motorcycle Rally in Sturgis, SD, and his on-air replacements have included Puckett, Hrbek, Larkin, and Morris.
External Links