Rich Gedman
Jump to navigation
Jump to search
Rich Gedman is the starting catcher and #7 hitter for Boston on the NES version of RBI. Though he's slow and a bit inconsistent, Gedman packs a lot of power for a seven hitter. His power related to his position in the lineup makes Gedman one of the better catchers in the game.
Biography
Richard Leo Gedman, Jr., also known as "Geddy," was born on September 26, 1959 in Worcester, Massachusetts. Playing little league baseball, Gedman wanted to be a catcher, but coaches always had him play some other position. At St. Peter Marian High School, he pitched and played first base, and led the team to a state championship in 1977. He also played American Legion baseball at Grafton Hill.
He wasn't drafted, but signed with the Red Sox as an amateur free agent on August 5, 1977. Scout Bill Enos approached Gedman with the possibility of catching on the professional level. Enos was impressed with Gedman's bat and his arm, but Gedman was too hefty to play outfield; didn't have the stamina to pitch; and lacked range at first base. His only option was to learn how to catch.
When he was playing in the instructional league in Sarasota, Gedman referred to himself as "a serious clang-master." He had a good arm, but had some issues with actually catching the ball. He played the 1978 season in Winter Haven and 1979 in Bristol. His relative success at the plate helped him to Pawtucket by 1980. Part of Gedman's motivation to get to the Majors was for the pay raise. While he was in the minor leagues, he had worked in a newspaper mail room and a brewery loading dock during the off-season. The pay would be much better in Boston.
Gedman played 9 games for Boston in 1980, and knew he had a shot at the starting position when Carlton Fisk left for Chicago after the season. When Gary Allenson went on the disabled-list in May, Gedman was permanently added to the roster. When Allenson returned, the two shared catching duties.
Gedman played most of the 1981 season in Boston, but started the year in Pawtucket. He was one of six RBIers (Ripken, Barrett, Boggs, Ojeda, and Hurst) to play in professional baseball's longest game; a 33-inning game between Pawtucket and Rochester on April 18. Gedman was the starting catcher for Pawtucket and went 1 for 3. The game lasted until after 4 a.m., and it wasn't until June 23 that the teams met to finish the game. Gedman had been re-assigned to Pawtucket in June after an injury, but did not play in the rescheduled conclusion of the game.
In his Major League catching debut, Gedman caught a Dennis Eckersley one-hitter. Toronto's only base-runner of the game stole second and reached third on Gedman's throwing error.
In 1981, he came in second to Dave Righetti for the A.L. Rookie of the Year, but was named A.L. Rookie Player of the Year by The Sporting News. He only played 62 games that year, batting .288, but he stood out because he was playing where Carlton Fisk had played for so many years.
Gedman had career years in 1984 and 1985. In 1984, he belted a career-high 24 home runs. The next year, he had career-highs with a .295 batting average, 147 hits, 30 doubles, and 80 RBI. In 1985 and 1986, he made the All-Star team.
He had always been a decent hitter, but his defense continued to struggle. Two seasons, Gedman led the league in errors by a catcher; 18 in 1984 and 15 in 1985. He also led the league in passed balls (14) in 1986. Although he led the league in throwing out base-runners from 1984-1986, he also allowed the most stolen bases in 1984.
On September 18, 1985, Gedman hit for the cycle and drove in a career-high 7 runs. He became the 16th Red Sox player and only the 6th Catcher in Major League history to hit for the cycle. Gedman had almost hit for the cycle earlier that year. He went 4-4 with a home run, triple, and two singles on July 21. During his career, Gedman had five 4-hit games.
Gedman hit 3 Grand Slams during his career. His 3rd Grand Slam gave the Red Sox a 9-6 win over the Tigers on August 10, 1986. With the bases loaded and 2 outs in the top of the 8th inning, Rich Gedman pinch-hit for Marc Sullivan. The Red Sox had been trailing 6-5, but Gedman's Grand Slam put them up 9-6.
He also was credited with a Major League record for putouts by a catcher in a game when Roger Clemens struck out 20 on April 29, 1986. The same year, he led the league with 866 putouts, 937 chances, and 14 passed balls.
Gedman batted .357 in both the 1986 and 1988 ALCS, but his performance in Game 6 of the 1986 World Series may be his most infamous one. With 2 outs in the bottom of the 10th inning, Bob Stanley's wild pitch allowed Kevin Mitchell to score the tying run and Ray Knight to advance to second base. Even though Stanley was charged with the wild pitch, many fans believe it was another passed ball by Gedman. His career would never be the same after 1986.
During the offseason, Gedman dealt with family deaths and a broken cheekbone suffered on an All-Star trip to Japan. He didn't start the 1987 season until June because of a free agency holdout, and a finger injury put him on the bench for the last two months. Gedman had played his last 100+ game season, and finished the 1987 season batting .205 with 1 home run in 151 at-bats. He had also suffered a groin injury earlier that year, and broke his toe after fouling a pitch off of it in April, 1988.
When he returned from the disabled list, he was forced to share the backstop with Rick Cerone. When Boston picked up National League All-Star catcher Tony Pena in 1990, Gedman could have figured out that his time in Boston was running out. He was traded to Houston on June 9, 1990 for a player to be named later. He was not re-signed, but St. Louis picked him up to back up Tom Pagnozzi. Gedman played his last Major League game on October 4, 1992, but he continued to play professional baseball.
In 1993, the Oakland Athletics invited Gedman to Spring Training. He didn't make the team, and he played for the Triple-A Yankee affiliate Columbus Clippers in 1994. His last try for the Majors was with Baltimore in 1994 Spring Training. Again failing to make the cut, he was to be assigned to Triple-A Rochester, but Gedman retired from professional baseball.

After his playing career, Gedman coached Little League; managed the Belmont Hill High School in Massachusetts; and was the hitting coach for the North Shore Spirit in 2004. In 2005, he signed on with the Worcester Tornados, in his hometown, to become the team's first manager. RBIer Bob Ojeda serves as the team's pitching coach.
Career Statistics
| | | | | | | | | | | | | | |
| --- | --- | --- | --- | --- | --- | --- | --- | --- | --- | --- | --- | --- | --- |
| G | AB | H | 2B | 3B | HR | R | RBI | BB | SO | AVG | OBP | SLG | OPS |
| 1,033 | 3,159 | 795 | 176 | 12 | 88 | 331 | 382 | 236 | 509 | .252 | .304 | .399 | .703 |
| | | | | | | | | |
| --- | --- | --- | --- | --- | --- | --- | --- | --- |
| TB | SB | CS | IBB | HBP | GIDP | Errors | DP (Defensively) | Baserunners Thrown Out |
| 1,259 | 3 | 4 | 53 | 16 | 80 | 92 | 62 | 314 |
Additional Photos
Baseball Cards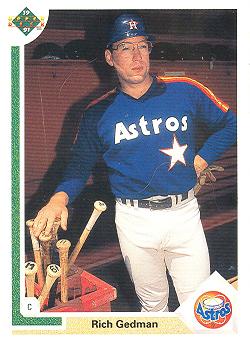 NES
Rich Gedman is the #7 hitter and starting catcher for Boston on the NES version of RBI. He batted left-handed and threw right-handed, but he's a right-handed batter in RBI Baseball.
External Links