Wally Backman
Jump to navigation
Jump to search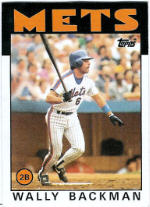 Wally Backman is the sixth hitter for the New York Mets in the NES version or RBI. Don't be fooled by the .320 batting average. This guy sucks and should be immediately replaced by a pinch hitter. Backman's shitty 717 power rating is the second worst in the league, and only surpassed by Rafael Santana and pitchers. Add his awful speed to the mix, and you have an utterly useless player. Howard Johnson or Tim Teufel make suitable replacements.
RBI Stats
Bio
Born September 22, 1959 in Hillsboro, Oregon
Signed by
Played in the Big Leagues from
Traded by
Etc.
External links