Difference between revisions of "World Series Champions"
---
Latest revision as of 13:08, 8 June 2013
This World Series Champions page lists RBIers who have players and managers of teams that have won the World Series.
Players who did not play in the World Series, but who were on the roster during the season, are also included. Only managers who finished the season are included.
Ca
1972 Oakland Athletics (Did Not Play)
1973 Oakland Athletics
1974 Oakland Athletics
1978 New York Yankees
1970 Baltimore Orioles (Did Not Play)
1993 Toronto Blue Jays (Did Not Play)
1972 Oakland Athletics
1988 Los Angeles Dodgers (Did Not Play)
Bo
1996 New York Yankees
1970 Baltimore Orioles (Did Not Play)
1989 Oakland Athletics
2004 Boston Red Sox (Did Not Play)
1999 New York Yankees
2000 New York Yankees
Dt
1984 Detroit Tigers
1984 Detroit Tigers
1988 Los Angeles Dodgers
1984 Detroit Tigers
1984 Detroit Tigers
1984 Detroit Tigers
1984 Detroit Tigers
1984 Detroit Tigers
1978 New York Yankees
1977 New York Yankees (Did Not Play)
1984 Detroit Tigers
1984 Detroit Tigers
1991 Minnesota Twins
1992 Toronto Blue Jays
1993 Toronto Blue Jays
1984 Detroit Tigers
Mn
1987 Minnesota Twins
1991 Minnesota Twins
1987 Minnesota Twins
1987 Minnesota Twins
1991 Minnesota Twins
1987 Minnesota Twins
1991 Minnesota Twins
1987 Minnesota Twins
1987 Minnesota Twins
1991 Minnesota Twins
1987 Minnesota Twins
1987 Minnesota Twins
1987 Minnesota Twins
1987 Minnesota Twins
1987 Minnesota Twins
1991 Minnesota Twins
1987 Minnesota Twins
1991 Minnesota Twins
1987 Minnesota Twins
1979 Pittsburgh Pirates
1987 Minnesota Twins
1984 Detroit Tigers
1987 Minnesota Twins
1987 Minnesota Twins
Ho
1990 Cincinnati Reds (Did Not Play)
1981 Los Angeles Dodgers
1973 Oakland Athletics (Did Not Play)
1974 Oakland Athletics (Did Not Play)
1979 Pittsburgh Pirates
NY
1986 New York Mets
1982 St. Louis Cardinals
1986 New York Mets
1986 New York Mets
1986 New York Mets
1996 New Yokr Yankees
1998 New York Yankees (Did Not Play)
1999 New York Yankees
1986 New York Mets
1986 New York Mets
1986 New York Mets
1986 New York Mets
1988 Los Angeles Dodgers
1986 New York Mets
1984 Detroit Tigers
1986 New York Mets
1986 New York Mets
1986 New York Mets
1996 New York Yankees (Did Not Play)
2000 New York Yankees (Did Not Play)
1986 New York Mets
1986 New York Mets
1988 Los Angeles Dodgers (Did Not Play)
1986 New York Mets
SL
1982 St. Louis Cardinals
1982 St. Louis Cardinals
1982 St. Louis Cardinals
1988 Los Angeles Dodgers
1993 Toronto Blue Jays
1993 Toronto Blue Jays (Did Not Play)
SF
1986 New York Mets
1981 Los Angeles Dodgers (Did Not Play)
1992 Toronto Blue Jays
2001 Arizona Diamondbacks (Manager)
1991 Minnesota Twins
1998 New York Yankees
1999 New York Yankees
1996 New York Yankees
1976 Cincinnati Reds (Did Not Play)
1979 Pittsburgh Pirates
Am
1977 New York Yankees
1978 New York Yankees (Did Not Play)
1989 Oakland Athletics
2000 New York Yankees
1983 Baltimore Orioles
1985 Kansas City Royals
1989 Oakland Athletics
1993 Toronto Blue Jays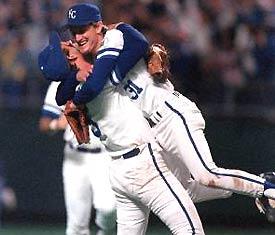 1985 Kansas City Royals
1992 Toronto Blue Jays
1996 New York Yankees
1992 Toronto Blue Jays
Na
1996 New York Yankees
1998 New York Yankees (Did Not Play)
1990 Cincinnati Reds
1980 Philadelphia Phillies
1981 Los Angeles Dodgers
1988 Los Angeles Dodgers (Did Not Play)
1981 Los Angeles Dodgers
1988 Los Angeles Dodgers (Did Not Play)
1981 Los Angeles Dodgers (Did Not Play)
1991 Minnesota Twins
1995 Atlanta Braves (Did Not Play)
Single-Series Leaderboard
Includes RBIers who Never Won a World Series
* denotes a Major League Record or for a 7-game Series
** denotes a Major League Record for a 6-game Series
*** denotes a Major League Record for a 5-game Series
**** denotes a Major Leagu Record for a 4-game Series
At-Bats
32 - Bill Buckner (1986 Red Sox)
31 - Paul Molitor (1982 Brewers), Wade Boggs (1986 Red Sox), & Danny Gladden (1987 Twins)
30 - Marty Barrett (1986 Red Sox), Rich Gedman (1986 Red Sox), Greg Gagne (1987 Twins), Danny Gladden (1991 Twins), & Terry Pendleton (1991 Braves)

Hits
13 - Marty Barrett* (1986 Red Sox)
12 - Phil Garner (1979 Pirates) & Paul Molitor** (1993 Blue Jays)
11 - Paul Molitor (1982 Brewers) & Terry Pendleton (1991 Braves)
Alan Trammell's 9 in the 1984 World Series is a record for a 5-game series

Doubles
4 - Phil Garner (1979 Pirates) & Billy Hatcher**** (1990 Reds)
3 - Reggie Jackson (1973 A's), Wade Boggs (1986 Red Sox), & Terry Pendleton (1991 Braves)
2 - Several Players

Triples
2 - Danny Gladden (1991 Twins) & Paul Molitor** (1993 Blue Jays)
1 - Several Players
0 - Even More Players

Home Runs
5 - Reggie Jackson** (1977 Yankees)
4 - Lenny Dykstra (1993 Phillies)
3 - Davey Lopes (1978 Dodgers)

Runs Batted In
9 - Dwight Evans (1986 Red Sox) & Gary Carter (1986 Mets)
8 - Reggie Jackson (1977 Yankees & 1978 Yankees), Keith Hernandez (1982 Cardinals), Paul Molitor (1993 Blue Jays), & Lenny Dykstra (1993 Phillies)
7 - Davey Lopes (1978 Dodgers), Mike Schmidt (1980 Phillies), Pedro Guerrero (1981 Dodgers), Kirk Gibson (1984 Tigers), & Danny Gladden (1987 Twins)

Runs Scored
10 - Reggie Jackson** (1977 Yankees) & Paul Molitor** (1993 Blue Jays)
9 - Lenny Dykstra (1993 Phillies)
7 - Davey Lopes (1978 Dodgers)

Stolen Bases
6 - Vince Coleman (1987 Cardinals)
4 - Davey Lopes (1981 Dodgers) & Lenny Dykstra (1993 Phillies)
3 - Kirk Gibson (1984 Tigers), Darryl Strawberry (1986 Mets), & Mookie Wilson (1986 Mets)

HBP
2 - Reggie Jackson (1978 Yankees)
1 - Several Players
0 - Even More Players
W-L
2-0 - Jack Morris (1984 Tigers & 1991 Twins), Bret Saberhagen (1985 Royals), Bruce Hurst (1986 Red Sox), & Jimmy Key (1992 Blue Jays)
2-1 - John Tudor (1985 Cardinals) & Frank Viola (1987 Twins)
1-0 - Several Players

Innings Pitched
23.0 - Bruce Hurst (1986 Red Sox) & Jack Morris (1991 Twins)
19.3 - Frank Viola (1987 Twins)
18.0 - Jack Morris (1984 Tigers), Bret Saberhagen (1985 Royals), & John Tudor (1985 Cardinals)

ERA
0.00* - Nolan Ryan (1969 Mets), Willie Hernandez (1983 Phillies), Ken Dayley (1985 Cardinals), Bob Stanley (1986 Red Sox), Jesse Orosco (1986 Mets), Jeff Reardon (1987 Twins), John Tudor (1988 Dodgers), Steve Bedrosian (1989 Giants), Roger Clemens (2000 Yankees), John Franco (2000 Mets)
0.50 - Bret Saberhagen (1985 Royals)
1.00 - Jimmy Key (1992 Blue Jays)

Saves
2 - Willie Hernandez (1984 Tigers), Jesse Orosco (1986 Mets), Todd Worrell (1987 Cardinals), & Tom Henke (1992 Blue Jays)
1 - Several Players
0 - Even More Players

Shutouts
Bret Saberhagen (1985 Royals)
John Tudor (1985 Cardinals)

Strikeouts
19 - Roger Clemens (2001 Yankees)
17 - Bruce Hurst (1986 Red Sox)
16 - Frank Viola (1987 Twins)
Career Leaderboard
Includes RBIers who Never Won a World Series
* denotes a Major League Record