Chris Speier
Jump to navigation
Jump to search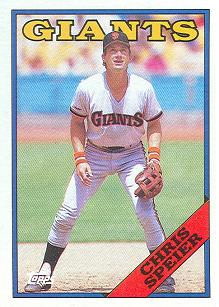 Chris Speier is the second bench player for the San Francisco Giants in RBI Baseball. He is best used as a pinch-hitter late in the game. Speier, Spilman and Aldrete are usually used to in some combo to replace Uribe and Thompson.
Playing Career
Chris Edward Speier was born on June 28, 1950 in Alameda, California. He attended Encinal High School, graduating in 1968. He was drafted by the Washington Senators in the 11th round of the 1968 draft (236th overall), but turned it down a chance to play in college. He played college baseball at the University of California, Santa Barbara, and was selected by the San Francisco Giants in the first round of the secondary phase of the 1970 draft (2nd overall).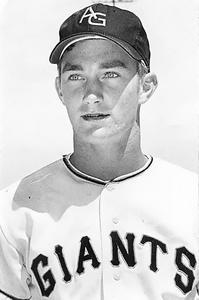 He spent only one season in the minor leagues with the double-A Amarillo Giants of the Texas League. In 1970, he batted .283 with 6 homers and 66 RBI for Amarillo, and was called up to San Francisco the following year. He made his Major League debut on April 7, 1971 against the San Diego Padres. It was the second game of the season, and Speier was starting at shortstop. He was batting after Bobby Bonds, and in front of Willie Mays and Willie McCovey. Speier grounded out to second base in his first Major League at-bat, but went 2 for 4 that day with a double and 2 RBI.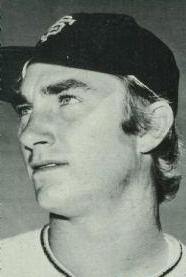 Speier hit his first career home run on May 14 in the first inning of a game against the Dodgers. Willie Mays followed Speier with a homer of his own. Speier played 157 games that year. He started 155 of those games at shortstop, where he led the league in errors (33). He had replaced Hal Lanier at shortstop, who is also Houston's manager in RBI Baseball.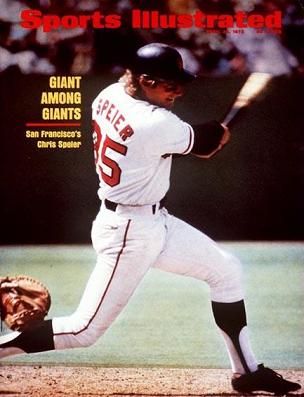 Speier was selected to the All-Star team the next three years (from 1972 to 1974), but was only named to those three during his 19-year career. In 1975, he had the highest fielding percentage among shortstops (.982), and he had a career-high .362 on-base percentage. But his batting average dropped to .226 in 1976, and he started the 1977 season batting .176. After six games in 1977, the Giants traded Speier to the Expos for fellow middle-infielder Tim Foli.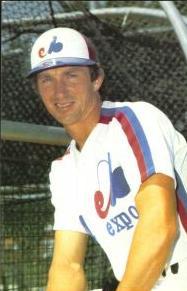 Speier became only the second Expo (Tim Foli was the first) to hit for the cycle when he did it on July 20, 1978. He also drove in 6 runs that day as the Expos beat the Braves 7-3. Speier would hit for the cycle once more during his career. On September 22, 1982, Speier set a club record for the Expos when he drove in 8 runs. Andre Dawson equaled that achievement during a 3-homer performance in 1985. Speier had a few great offensive games, but had hovered around the .250 mark for most of his time in Montreal. On July 1, 1984, the Expos traded Speier to the Cardinals for Mike Ramsey.
Speier only played 38 games for the Cardinals, and on August 19, he was traded to Minnesota for Jay Pettibone. His time in Minnesota was even shorter, lasting 12 games. The Twins did not resign him after the season, and in 1985, Speier signed with the Cubs as a free agent. After the 1986 season, Speier signed with the Giants again as a free agent.

In 1987, his San Francisco teammates awarded him the Willie Mac Award for inspirational play. Several other RBIers have also won the award. Jack Clark (1980), Larry Herndon (1981), Darrell Evans (1983), Bob Brenly (1984), Mike Krukow (1985 & 1986), Jose Uribe (1988), Steve Bedrosian (1990), Robby Thompson (1991), Ellis Burks (2000), and Benito Santiago (co-awardee in 2001) have all won the Willie Mac Award.

Speier hit for the cycle for the second time in his career on July 8, 1988 against the Cardinals. He went 5 for 6 with 5 RBI as the Giants won 21-2. He also hit his 4th career Grand Slam on May 20th. His first Grand Slam came in 1972, but it would be 15 years before he hit his second. In May of 1987, Speier hit two Grand Slams (May 5th & 9th).

Speier had been a utility infielder, and nobody saw Speier as a future home run hitter. With Robby Thompson playing everyday at second base, and Matt Williams splitting his time between third and short, the Giants had little use for Speier. He played his final game on October 1, 1989
Coaching Career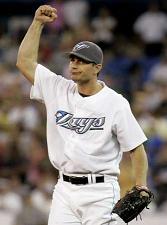 When his playing career ended, Speier became a minor league instructor in the Giants' minor league organization. In 1995, Speier became the hitting coach for the double-A Orlando Rays. His son, Justin was a pitcher there from 1996 to 1997, and joined the Cubs in 1998. In seven years, Justin has managed to play for more Major League teams (6) than his father did in his 19-year career (5).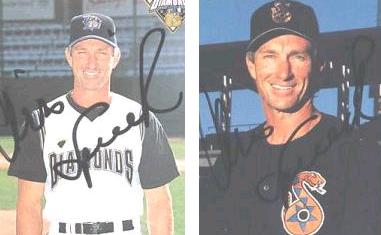 Chris was a manager in the Diamondbacks' farm system for four years. In 1996, he managed the Lethbridge Black Diamonds to the postseason during his first season as a manager. They lost in the postseason, but Speier would win a championship the next year. In 1997, he coached the High Desert Mavericks and won the single-A California League championship. From 1998 to 1999, Speier coached the triple-A Tucson Sidewinders of the Pacific Coast League. He finished his minor league coaching career with a 256-240 record.
After coaching minor league ball, Speier became an assistant coach on the Major League level. In 2000, he was the Brewers' third base coach under manager Davey Lopes. He was the third base coach for the Arizona Diamondbacks under Bob Brenly when they won the 2001 World Series. After the 2001 season, he left baseball to spend time with his family, but returned in 2004 to serve as a bench coach for the Oakland A's. In 2005, he became the Cubs' third base coach.
RBI Stats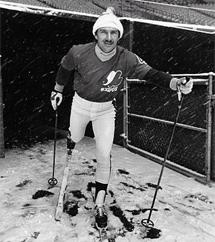 Nicknames

Career Stats
| | | | | | | | | | | | | | |
| --- | --- | --- | --- | --- | --- | --- | --- | --- | --- | --- | --- | --- | --- |
| G | AB | H | 2B | 3B | HR | R | RBI | BB | SO | AVG | OBP | SLG | OPS |
| 2,260 | 7,156 | 1,759 | 302 | 50 | 112 | 770 | 720 | 847 | 988 | .246 | .327 | .349 | .676 |
| | | | | | | | | |
| --- | --- | --- | --- | --- | --- | --- | --- | --- |
| TB | SB | CS | IBB | HBP | GIDP | Errors | DP (Defensively) | Assists |
| 2,497 | 42 | 54 | 106 | 35 | 183 | 288 | 1,121 | 6,259 |
Hall of Shame
Got arrested for DUI in July 2006
Baseball Cards
Pics